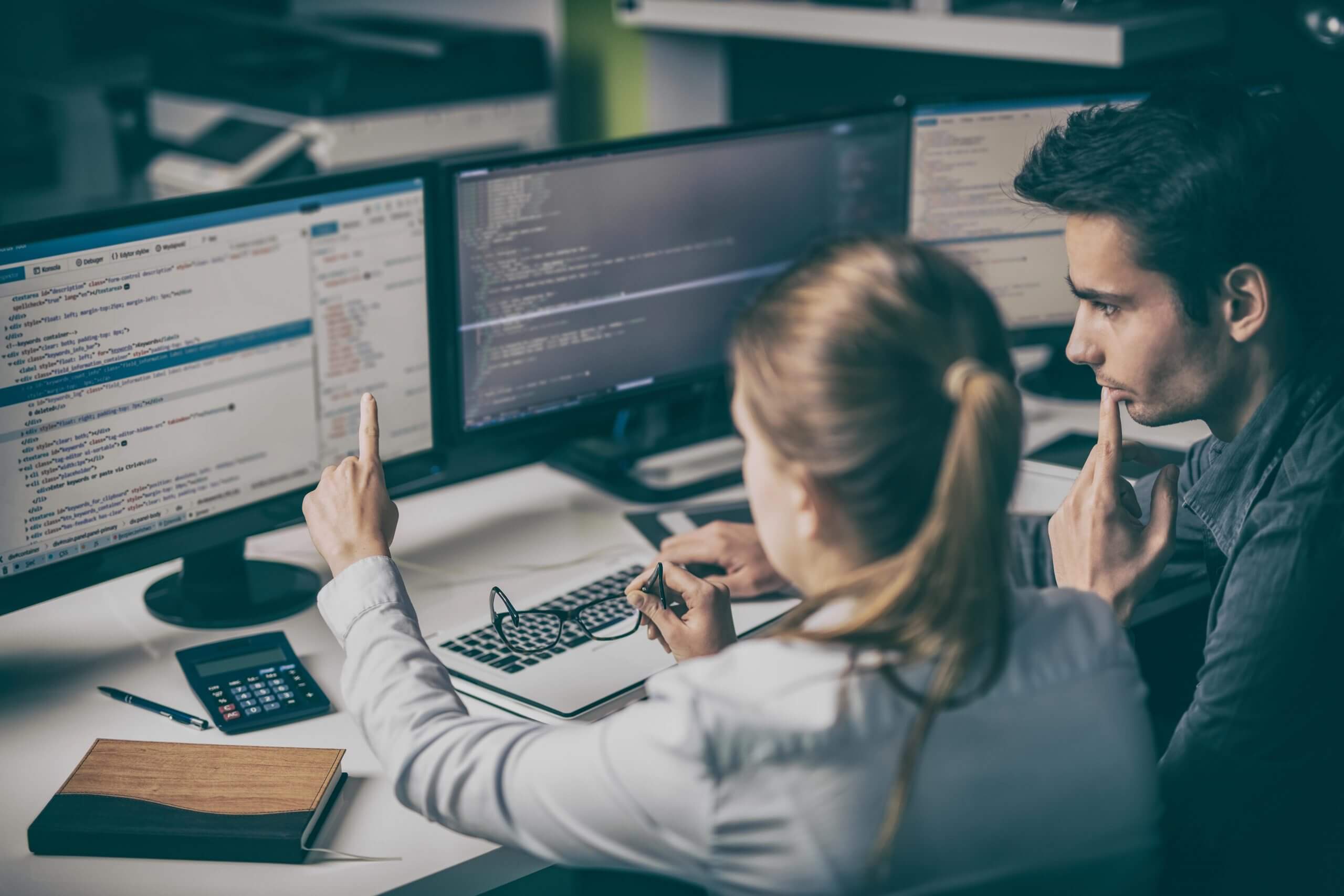 As for IT outsourcing, Ukraine is one of the most popular destinations. It is ranked third in the list of countries with the most significant number of certified IT professionals, many of whom have niche skills and experience in projects with a wide range of advanced technologies. Over the past decade, the popularity of Ukraine as a software development outsourcing destination has grown among the world's leading companies. As the software outsourcing market continues to expand, more and more IT-oriented organizations, technology startups, and full-fledged research centers of global companies appear in Ukraine.
While working with Ukrainian software developers is a choice that will likely pay off, it can be difficult for a vendor with no outsourcing experience to find a way to bypass the dynamic Ukrainian market and successfully find developers for their startup. Therefore, let's look at the main aspects of consistently and correctly creating a functional team in Ukraine.
MARKET ANALYSIS
Ukraine is an excellent option for hiring developers in Eastern Europe. Let's look at the main reasons:
Ukraine ranks second in the number of software developers in Eastern Europe after Poland.
Competition for technical talent in Ukraine is less fierce than in other European countries. Compared to Poland, there are fewer large international companies in Ukraine. It is advantageous because you don't have to face stiff competition from global giants when hiring developers in Ukraine.
The number of technology companies in Ukraine continues to grow. In 2020, Kyiv ranked 32nd in the ranking of 1000 cities globally with the best startup ecosystems. At the same time, most developers still work in large outsourcing companies and not in product companies.
Ukraine is one of the fastest-growing technology hubs in Europe. With many technical universities and research centers dating back to Soviet times, Ukraine is the 6th fastest growing technology center in Europe. There are over 40 universities offering computer science majors and dozens of private IT schools that graduate over 23,000 programmers annually.
Ukrainian technical talent is diverse. The country holds a leading position in developers specializing in popular technologies Java, JavaScript, Ruby on Rails, Python, SQL, and PHP. Ukraine also boasts many programmers working with rarer technologies such as Scala, Haskell, C#, etc. Thus, you can hire software developers in Ukraine who specialize in whatever technology you need to develop your product.
Ukrainian developers are influential in their critical thinking, creativity, and initiative. Unlike other countries, the IT industry in Ukraine occupies high positions in prestige, which means that the market is constantly growing.
You can quickly hire developers in Ukraine. While the demand for Ukrainian tech talent is generally high, it has become much easier to hire developers during and after quarantine as the number of available developers has grown.
RUNNING BUSINESS IN UKRAINE
What are the possible risks of outsourcing in Ukraine?
Anything with great benefits also comes with certain risks. Ukraine is one of the largest areas of IT outsourcing and offshoring, but there are still some general risks that should consider when hiring Ukrainian developers:
Some authorities riddled with corruption.
Very weak intellectual property legislation.
There are no tax breaks in the country for most software companies.
TOP UKRAINE'S LOCATIONS
Kyiv, Kharkiv, Lviv, and Dnipro are considered the best cities to rent software coders in Ukraine. These cities account for 74% of the country's developers. They have about one million people, a well-developed urban infrastructure, convenient air links, and many technical universities.
These circumstances attract hundreds of international companies and contribute to the growth of the industry in the country. It is best to choose big cities for hiring developers because they also have many professional communities and massive interactivity.
KYIV
Kyiv is the most significant development center in the country, home to 37% of IT professionals, do hiring can bring visible results. There are about 56 thousand software developers in Kyiv. Moreover, most large companies locate in Kyiv, which means that the talent competition is higher here than in other Ukrainian technology hubs.
Many global enterprises, including Samsung, Huawei, Ericsson, NetCracker, and others, have R&D centers in the capital. Kyiv is also favorable for startups, and the city has offices of such successful tech startups as Grammarly, Petcube, Terrasoft, Augmented Pixels.
KHARKIV
It is not difficult to find a developer in Kharkiv because more than 480 companies provide IT services and products, employing more than 26 thousand professionals. The IT industry in Kharkiv is growing on average by 20% per year, and the leading IT outsourcing markets for Kharkiv are the USA – 74% and Eastern Europe – 19%. The main directions for Kharkiv IT companies are the development of e-commerce products, entertainment programs and games, travel services, banking, and financial technologies.
Kharkiv is an attractive option for business in terms of profitability. The city ranks 2nd in terms of the number of programmers after Kyiv. Still, the salaries of developers in Kharkiv are lower. The talent competition is less fierce here, and the talent market is constantly growing thanks to many technological universities. Kharkiv is often calling the city of students because it has many research centers and educational institutions dating back to the Soviet Union.
LVIV
Lviv can be an excellent option for expanding your business. At the beginning of 2020, there were 460+ technology companies in Lviv, employing 19 thousand programmers. The most popular technologies used by Lviv programmers are JavaScript, C ++, Java, C#, and Python. This way, if you are looking to hire a dedicated PHP developer in Lviv or an entire cross-functional team, you will not have a talent shortage problem. 80% of Lviv IT employees are technical specialists. In addition, 25% of developers in Lviv also work as freelancers, create their startups, or teach.
Compared to other Ukrainian technology centers, Lviv has the most convenient geographical location. In addition, Lviv is a pro-European city with a dynamic technological community, which attracts technical specialists from all over Ukraine. Therefore, it is not surprising that Lviv's technology market has tripled over the past five years.
DNIPRO
Dnipro is another proven place to hire web developers in Ukraine. There are 378 IT companies in Dnipro, employing more than 15 thousand programmers. Small and medium-sized companies occupy almost 97% of the market. However, every third developer in Dnipro works for a large company. If we talk about Dnipro, 62.6% are service providers, 20.4% are product companies, 9.2% are startups, 4.2% are service and product companies, and 3.4% are international giants.
Although the number of software developers in Dnipro is less than in other Ukrainian technology hubs, the city overgrows. The number of programmers in Dnipro expected to double by 2025. It is also worth noting that 40% of Dnipro developers are older people.
SALARY LEVELS
The salary of programmers in Ukraine can range from a few hundred dollars for juniors and up to 6-7 thousand if you need a leading systems architect. Naturally, actual salaries are highly dependent on technology, location, and experience. But if we take the average monthly wage, then the figures for 2021 will be as follows:
PHP DEVELOPERS
Junior PHP Developer in Ukraine makes about $800 a month. If you are looking to hire a mid-level Ukrainian software developer, your monthly expenses will be $2,000. The salary of a senior PHP programmer in Ukraine is almost twice as high as $3,500. A top-tier system architect gets $5,000.
RUBY ON RAILS DEVELOPERS
RoR developers are slightly more expensive than PHP programmers, but there are still no shocking amounts. Your budget should be $ 700 if you want to hire an entry-level programmer. Medium and senior RoR developers receive an average of $2,400 and $4,200, respectively.
iOS DEVELOPERS
Several things observed are the growing gap between entry-level and senior-level positions and the increase in wages for junior employees in technologies such as Objective-C. For example, the average annual budget of a Ukrainian IT company for a junior developer salary is approximately $720 per month, while a senior iOS developer can receive up to $3200.
JAVA DEVELOPERS
In 2021, Java became the most popular language among Ukrainian developers. Today it occupies about 20% of the Ukrainian IT market. The salary for the average Java programmer is skyrocketing at $1,600, and hiring a senior developer will cost you $4,000 or more. Due to the high demand for specialists in this technology, salaries are corresponding. An entry-level Java developer will have to pay about $ 880 a month.
ANDROID DEVELOPERS
If you are looking to hire an Android Java developer, the salary will be slightly lower. Junior's monthly income ranges from $500 to $690. Middle's salary goes up to $1,200, and senior Java Android developers typically ask for $3,060.
C++ DEVELOPERS
The salary of a C++ developer in Ukraine is about $1000 if we mean a junior programmer. The salary of a senior C++ programmer reaches $4,000 or more. Average developers will make around $2,450 per month.
UNITY DEVELOPERS
Unity junior developer salaries in Ukraine range from $700 to $900. Mid-level software development specialists make up to $1,700—unity developer salary with 5+ years of experience from $3200 per month.
SALESFORCE DEVELOPERS
Salesforce mid-tier developer salaries start at $2,500 and go up to $3,500. Experienced Salesforce developer salaries range from $4,000 to $4,500.
ANGULAR DEVELOPERS
On average, an Angular developer in Ukraine receives $950 if his work experience does not exceed one to two years. Thus, the cost of a mid-level specialist is up to $1,550, and for a senior Angular programmer from $3,020 per month.
We have shown several examples of the salaries of programmers in Ukraine. As a result, today, Ukraine has one of the best value for money in the world.
Argent Team will help you learn more about hiring developers in Ukraine, will tell you about all the costs. To do this, contact us at hello@argent.team. We'll find the best programmers for you to match your skills and budget requirements.
COLLABORATION MODEL DESIGNATION
Let's look at the specifics of cooperation with Ukraine and what four main models of remote collaboration exist in the country:
Hiring freelancers
Setting up an R&D center
Building a dedicated team
Handing over your project to a vendor
Depending on the needs and expectations of your business, you can choose to work with Ukrainian developers using one of the following remote collaboration models:
HIRING FREELANCERS
Hiring freelance developers is an excellent option if software development is not your main business and the volume of development tasks is small. However, keep in mind that freelancers usually do multiple projects simultaneously, which means they might miss deadlines and won't fully dedicate themselves to your product. If this is not too much of a problem for you, you should hire a freelance developer in Ukraine. The country ranks 2nd in Europe in terms of the number of freelance developers, so it won't take long to find one.
RESEARCH AND DEVELOPMENT CENTER
This model is best suited for large companies looking to enter foreign markets with their services or products. Setting up your R&D center isn't too different from starting a company from scratch. You will need many professionals, from HR managers and PMs to software engineers with different specializations. It means that you will have to hire about 50 professionals from the very beginning.
DEDICATED TEAM
Offshore software development is an excellent alternative for companies that want to hire full-time programmers but don't want to set up their remote R&D centers. Like your local software engineers, dedicated remote developers only work on your product and are an integral part of your internal team. You can manage a remote dedicated team of your choice, and your technical partner will manage all organizational issues.
PROJECT OUTSOURCING
This model is suitable for business owners who have strict and predictable technical requirements. If you submit the project for outstaffing, it is necessary to provide the service provider with everything necessary, like set a deadline and agree on a budget. The supplier engages its current employees in your project and takes care of all management and organizational issues. It is important to note that making changes to project requirements throughout the development process is likely to increase the original budget.
ANALYSIS OF POTENTIAL PARTNERS
Choosing a reliable service provider for IT outsourcing in Ukraine is the foundation for successful cooperation with remote software developers.
To select a reliable outsourcing service provider, check your potential technical partner against the following criteria like company maturity, positive customer reviews, in-depth experience in various fields, similar values, a well-established employer brand, and international certifications.
MATURITY OF THE COMPANY
Ensure the outsourcing provider you are considering is a well-established company with at least five years of market experience. Experienced outstaffing providers know how to find a developer, how to deal with crises, and how to help you grow your business.
POSITIVE CUSTOMER REVIEWS
Good outsourcing vendors typically host several case studies and customer success stories on their websites, as well as testimonials on Clutch, Goodfirms, and similar websites. In addition, you can always contact the seller's customers directly and ask them for recommendations.
COMPREHENSIVE EXPERIENCE IN A WIDE VARIETY OF AREAS
Check if the supplier has experience with businesses from different industries: healthcare, e-learning, e-commerce, telecommunications, financial technology, etc. It demonstrates the supplier's extensive business experience.
SIMILAR VIEWS
Do you believe in transparency and flexibility? Check if your provider agrees. It is a significant agreement when it comes to cost levels. Ultimately, it is crucial to move forward with like-minded people.
WELL-ESTABLISHED EMPLOYER BRAND
It's not just about marketing here. Technical partners who genuinely care about their developers will have high retention and employee satisfaction level, making it easier for them to hire developers in Ukraine for your project.
INTERNATIONAL CERTIFICATIONS
Examine the company certifications like ISO, Microsoft, etc. Be sure to check the company ratings with trusted sources such as Clutch or Goodfirms. All this confirms the supplier's high safety standards.
In finding a reliable supplier, such resources as DOU, MC Today, Liga Tech, IT ID Lviv, and others will help you. It is here that you can find lists of outsourcing companies, supplier websites, information on industry recognition, reputation, and brands of Ukrainian software developers.
WHAT COULD ARGENT TEAM MAKE FOR YOU?
Argent Team has been steadily expanding its developer database over the years and boasts many completed projects.
The primary resources we work with:
Linkedin is a prominent yet influential recruiting tool. We are constantly working to improve the already effective mechanisms for hiring top-notch developers through this platform.
Work.ua and Rabota.ua are local recruiting platforms, but they can be a real boon for high-class developers in the region.
Dou is a platform that can become an excellent base for finding IT developers in Ukraine. Argent Team takes every source of local talent seriously because expanding your search helps you select the best candidates.
Djinni serves precisely the purpose of the IT talent market, and it would be a big mistake to overlook the professionals represented on this platform.
GitHub is another huge forum and marketplace for talented software developers even though it was initially built, like the development platform. It brings together developers and is a great place to network and educate professionals.
Argent Team follows the most important social media groups and forums related to software development and IT talent. We are happy to meet other players in our field and learn about trends and developments in it. Visiting various technical and business conferences helps us stay updated with the latest products and expand our database with new talent.
How does Argent Team hire a dedicated development team for clients?
For example, you want to hire developers or create a software development team in Ukraine. It is a relatively easy task in such a case, given the number of good local developers at a competitive price. However, there is talent in Ukraine, and we offer outstaffing services to help you work with the best technicians in the country.
Well, are you looking for a software development team to complement your existing unit? Or maybe you want to create an independent offshore development team to be the primary executor?
Learn more about our projects and just contact us to discuss your needs at hello@argent.team
CONCLUSION
Development centers locate in Ukraine, and they employ thousands of developers on projects for Google, IBM, Panasonic, Mercedes-Benz, and other companies. Competitive prices of Ukrainian developers, constantly growing human resources, and extensive experience in this area has given a powerful impetus to the rapidly growing industry. Moreover, it is a good indicator of code quality and management.
It is a great idea to research the Ukrainian IT sector and see if it can be a good solution for your project and budget.